Which one of your ads is actually driving the sales?
It's actually not a straightforward question because campaigns can often be interdependent.
However, understanding the flow of traffic from one event to another is definitely the key to optimising ads for conversion – so it may be the case that making the sale becomes the job of one specific campaign – while the others are established to position your audience where they are ready for the closing ad to take them over the line.
The one common thing across digital ads is that one campaign is not usually enough to both initiate and close the sale – yet so many advertisers expect this.
Coming back to the initial question of tracking results by specific ad, ad group or campaign…
No matter what the goal of a campaign or adgroup/adset within it, you can absolutely identify your star ads on Analytics – not just the outcome, but the entire journey through the funnel by adding short snippets of code to the link on each of your ads.
These extended URL snippets are called UTM codes (short for Urchin Traff Monitors – but pretty much always calls UTM code).
When you add UTM codes to ads, you can label each element of your ad – Campaign, Ad Group/Adset and Creative in real English – which shows in your Analytics.in the UTM generator tool.
This allows you to be able to view the journey through your funnel clearly and transparently. It is surprising what you learn!
How to add UTM code.
Adding UTM code to your advertising URL for each ad is really easy.
You can do it right in the Facebook Ads Manager – right below where the destinations URL is added for Facebook Ads.
Most advertisers ignore this area of the Ad Creation because they are not sure what to do.
Just add in the fields (they are clearly named) what you would like to see in your Analytics account the name of the Campaign, descriptor for the Adset & the name of your ad – make it something that you can recognise easily.
If you want to set up your URLs externally, there is a simple Google tool that does this and will even shortcode the longer url for you.
Adding a UTM code effectively separates the traffic from that url from all other traffic arriving on the site. You are literally tagging the traffic as belonging to a specific source.
While UTM tagged traffic will still be viewable in all traffic from 'Social', for example, it will also be viewable in its own right – so you will be able to see the percentage of bounce traffic as compared to other ads/audiences, the number of pages viewed during the visit, the number of 'new' visitors and the revenue from conversions as compared to other ads/audiences/campaign types.
The value this brings is enormous – and it's viewable with a flick of any eye in the Analytics screen.
UTM code retargeting
Because your UTM code is a url in its own right, you can establish retargeting audiences from a single ad (presuming that you have enough traffic. 
All you have to do is establish a retargeting audience in your Facebook Ads manager using the tagged URL.
So – if you want to target people who clicked on the first ad, but did not purchase within three days * target them for the remainder of the week, you can establish this with audience inclusion and exclusions – you target the audience of people who clicked on your [utm url based] link in the last 7 days, and you exclude those who clicked on it in the 3 most recent days.
This gives them a conversion window to convert based on the cold audience click then adds pressure for the last few days of the 7 day conversion window if they do not.
It's a very successful and cost effective strategy.
One word of caution, however – whatever you put in your UTM url parameters is visible to anyone who looks to the URL they have followed, so be careful not to use anything that would look out of place for consumers – such as a retargeting ad for non-purchasers. That might give your game away.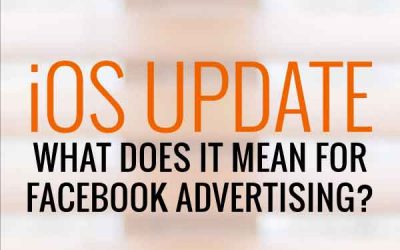 iOS Update 2021 - Impact on Facebook Ads THe iOS update 2021 is possibly the most significant...
read more