How to set up Instagram Stores Polls Ads (and when to use them)
Instagram Stories Polls are Super engaging organic posts, but until now have not been available as ads.
Instagram Stories are so popular as organic post content and were super successful as an ad option in recent years – possibly because not everyone grasped how to use them – that Stories for Business and Ads were added to Facebook.
In the super glamourous Instagram space, Stories were almost an opportunity to be real for a change and show the 'behind the scenes' version of your business.
How to create Stories Ads with Polls.
To create an Instagram Stories Polls Ad you will need to create an Adset in the Ads Manager that ONLY includes Instagram Stories in the 'Placement' section. 
If you include Facebook Stories in your selected placements, the option of creating a poll disappears – this option is presently ONLY available for Instagram.
Look for the prompt inviting you to add a poll on your Story!
While you can't change the typeface, you can establish some control over the size and the look of the poll itself – and of course you can enter the Poll title and two Poll Options.
The Poll and Poll Options can be rotated if you wish and can be placed in a p[articular spot – try starting at 50% of horizontal and 50% or vertical (and definitely avoid the bottom 240px – that's where the call to action will sit!
Top Tip – make sure you check the preview, as your Poll Option will show in white – you'll need to select an image that has a dark background – so your poll stands out nicely – or a solid colour as your background if no image is required.
Because Stories show for only 15 seconds, best practice is to use an image rather than a video, because you want people to understand what you want them to do – as well as take action, in a  really short space of time
When would you use Stories Poll Ads?
My recommendation is that you use Stories Polls ads for engagement in your product to cold audiences – to later retarget, as one aspect of your audience building strategy – so at the top of the funnel, to assess how and if they work for you – retargeting with warm audience Add to Cart ads (such as testimonials) and/or Catalogue Ads.
For your retargeting, you can easily establish a custom audience based on engagement with your Instagram posts or ads (this includes Stories).
If you have a large Instagram presence, you may also consider these ads at the bottom of the funnel to close the sale (eg will you go with Blue or Green). However, because by only choosing Stories as the platform, you are really limiting the exposure opportunity for your ads if you only use them for retargeting!
As always with a new tool – test it, and see how it works for you!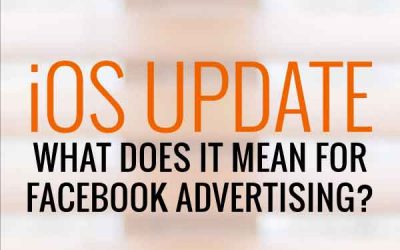 iOS Update 2021 - Impact on Facebook Ads THe iOS...